Holly Hall - the youth theatre director in E11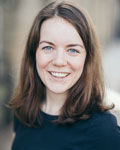 Originally from Coventry, Holly is an actor, writer and comedy improviser.

Some of her acting credits include: playing a reporter alongside Mr Blobby on The Last Leg (Channel 4), A sports coach for Now TV/The Walking Dead and Scientist Rosalind Franklin for BBC bitesize.

Holly studied Drama, Performance and Theatre Arts at Staffordshire University with teachers who worked across the theatre and TV industry such as theatre lighting designers, playwrights, directors and actors.

Holly is currently filming a range of comedy sketches that she co-wrote and cast and hopes to continue writing them to film and share via social media.

Holly has self-diagnosed 'Mashaphobia' (fear of mash potato) despite being a big fan of Bodger and Badger as a child.